You and your sweetheart are now engaged and have decided upon a date. Now you have started the daunting task of planning your wedding. While organising your big event, do not forget to think about your wedding registry. Some people don't like the idea of making a list of expected gifts, but this alternative is very helpful for guests. It's a tricky question, but you have to admit that nobody wants to give or receive an unwanted present. It's difficult to please a couple as we all have different tastes and needs. The best way to avoid embarrassment is to let your guests know what you would like to be given for your Big Day.
There are four main trends of wedding list registry: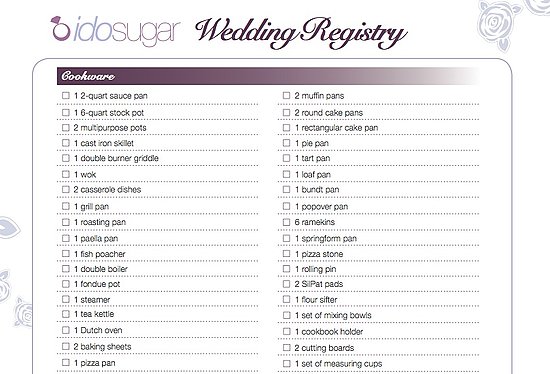 Department stores that provide a wedding gift list service made up from their stock. Registering with a department store is still a very popular option of setting up a wedding list. Usually Department stores will provide you a payment card valid for a certain period of time after the wedding to purchase your gifts. Over this period, some majors stores will offer you to load a part of the remaining money contribution, charging you fees for not being able to spend all the money and others would not give anything back.
You can choose to register with Multiple Stores registry: they allow you to make purchases in a large range of affiliated stores. It's just like a one-stop shop where you can combine products from different retailers. This solution would also save brides and grooms from spreading the word about many list registries.
In case you already have all items you need to set-up home, you can consider registering towards your honeymoon. There are many websites that offer to register exclusively towards your honeymoon getaway. Honeymoon registry is often the choice of couples already live together.
The ultimate wedding registry option is the universal wedding list registries. Internet use enables wedding couples to compile their gift list from the comfort of their own home and keep track of offered items and gift-givers details up-to-date. The good point is that you can choose to make up your wedding list with any of the options mentioned above: items you would like to receive, your honeymoon getaway, charitable donations etc.. and then ask your guests to contribute. Guests will have an accurate idea of your gift wishes with photos and descriptions. Usually these online gift registries also offer to register your guests contributions over the phone. The most amazing thing about this option is that you can purchase the items you have asked for, pay for your honeymoon or get the contributions in cash! You can set up your wedding website to communicate on all relevant information about your wedding day. This alternative gathers all the good points of other bridal registries.
Make sure you choose the right alternative according to what you really need and remember that as far as the wedding registry is concerned, the most important is flexibility!
Have a wonderful wedding! May all your selections bring you happiness.